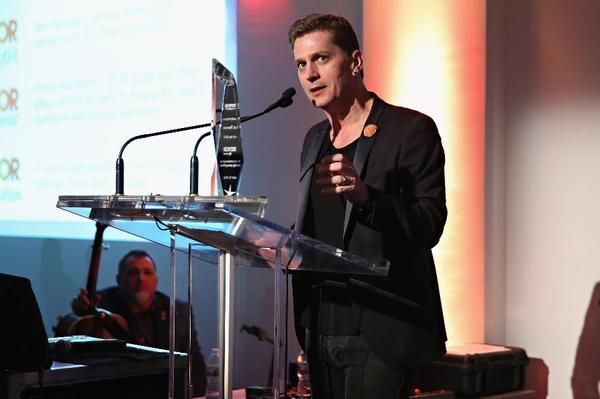 Check out an interview with Rob Thomas on...
Matchbox 20 Frontman Rob Thomas And Gay Rights: 'I Want To Be On The Right Side Of History'

Left and right, it seems like there are musicians making stands with the LGBTQ community, be it with a statement, an empowering anthem, or by refusing to perform somewhere. Recently, a handful of stars such as Bruce Springsteen and Pearl Jam have all canceled shows over legislation they see as reprehensible, potentially losing out on hundreds of thousands or even millions in ticket sales and merchandise revenue.

Last week, the Trevor Project, an organization that operates a suicide hotline specifically for LGBTQ youth, held its annual spring event. That night, the nonprofit gave a very special ally award to Matchbox 20 frontman and solo artist Rob Thomas, who is not gay himself. It was a very purposeful choice, and one that sends a message that straight allies are incredibly important, especially in the music industry. Thomas is also a musician that has a platform on which to speak, thanks to his many successes in the industry. As the leader of his band, Thomas has penned or co-penned eleven top 40 hits, and that number expands to fourteen when his solo work is added in. He has a sizable collection of gold and platinum albums, and three Grammys (out of nine nominations). He has earned the position he is in, and he is able and willing to use it now.

I sat down with Rob before he accepted his award and performed for the crowd of several hundred people, and he spoke at length about why he was here to claim a prize simply because he stands for what seems like common sense, and we talked about whether he would cancel shows based on a state or city's discriminatory laws.

Check out the full interview at forbes.com
Recent News
ROB THOMAS BRINGS ANNUAL SIDEWALK ANGELS BENEFIT SHOW TO THE WEST COAST March 29th, 2019 Chumash Casino Santa Ynez, CA Fan club members will get exclusive first access to concert tickets and VIP upgrades beginning December 14th at 10am Pacific. A...

Rob Thomas and Sidewalk Angels have again partnered with VNUE on the upcoming Borgata shows to offer "instant live" recordings of each night's performance. But this year, in addition to the Collectible Download Cards, VNUE will also be offering Limited Edition DiscLive...

JUST ANNOUNCED : THE 8TH ANNUAL SIDEWALK ANGELS FOUNDATION BENEFIT SHOW January 18th, 19th & 20th 2019 Borgata Hotel Casino and Spa Atlantic City, NJ Fan club members will get exclusive first access to tickets and VIP...

A note from Rob: Sidewalk Angels Foundation has been a labor of love for us for over a decade. Our goal is to continue to raise awareness and help grass roots organizations across the country and Caribbean that work tirelessly to help those with no voice....