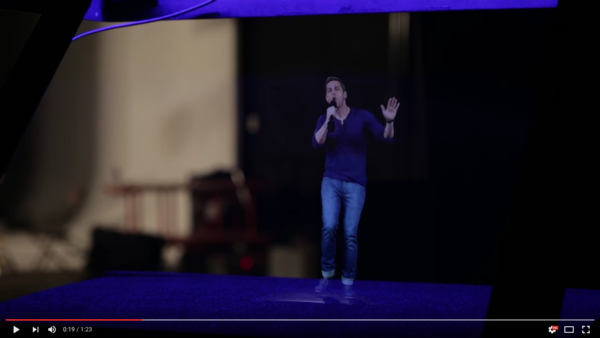 The Industry-First Hologram Experience Allows...
MULTIPLE-GRAMMY® AWARD-WINNING SINGER/SONGWRITER ROB THOMAS AND VNTANA CREATE THE FIRST HOLOGRAM KARAOKE EXPERIENCE TO PERSONALLY ENGAGE WITH FANS DURING THOMAS' SUMMER 2016 TOUR

The Industry-First Hologram Experience Allows Fans To Interact with Rob Thomas and See Their Own Hologram LIVE Next To His Hologram And Perform A Duet
LOS ANGELES, CA – June 23, 2016 — Social augmented reality company, VNTANA, today announced the creation of the first interactive hologram karaoke fan experience to go on tour with multiple-GRAMMY® Award- winning singer and songwriter Rob Thomas. As a part of the tour's VIP Package, fans can select one of three songs to perform as a hologram duet with Thomas' hologram, including the new single, Pieces from Thomas' 3 rd solo album THE GREAT UNKNOWN as well as other favorites One Shot and This is How A Heart Breaks. Fan engagement is a key component in music culture and essential for artists to help create personal experiences for their fans, however, accessibility to artists has recently raised concerns and challenged artists to come up with new ways to engage with fans. Rob was keen to continue to offer his fans a one-on- one experience, and worked with VNTANA to create a virtual meet and greet that still offered close engagement. What can fans expect to see during their HOLLAGRAM karaoke experience?
- Fans stand in front of VNTANA's custom display and within seconds see their own hologram LIVE next to Rob Thomas' hologram.
- As they both appear "on stage," Thomas' charismatic hologram invites them to sing a duet with him.
- After the hologram performance is done, each fan will receive a video of the experience that they can immediately share with friends and family on social media.

"Futuristic Karaoke! I always love to experiment with new technology and this is like nothing I've ever seen before," said Thomas. "It's going to be very cool and I'm excited for the fans to check it out."

VNTANA wanted to use their technology to build something for Rob that allowed him to directly engage with fans in a way that has never been done before. "Rob and his team are always at the forefront of emerging technology, looking for ways to provide fans with one-of- kind intimate experiences," said Ashley Crowder, CEO and Co-Founder of VNTANA. "Rob's electrifying personality is a perfect fit with our technology and helped inspire us to create this unique experience."

Thomas will be co-headlining his North American tour this summer with Counting Crows. The tour will kick off in West Palm Beach, FL on July 22nd, and wraps up in Nashville, TN on Sept. 30th. VIP Packages to experience the HOLLAGRAM Karaoke are available now at http://robthomasmusic.com/events.
Don't miss out on your chance to Win 2 Tickets to see Rob Thomas on his 2016 Tour via the fine folks at Tunespeak. Click here for details.
Recent News
ROB THOMAS BRINGS ANNUAL SIDEWALK ANGELS BENEFIT SHOW TO THE WEST COAST March 29th, 2019 Chumash Casino Santa Ynez, CA Fan club members will get exclusive first access to concert tickets and VIP upgrades beginning December 14th at 10am Pacific. A...

Rob Thomas and Sidewalk Angels have again partnered with VNUE on the upcoming Borgata shows to offer "instant live" recordings of each night's performance. But this year, in addition to the Collectible Download Cards, VNUE will also be offering Limited Edition DiscLive...

JUST ANNOUNCED : THE 8TH ANNUAL SIDEWALK ANGELS FOUNDATION BENEFIT SHOW January 18th, 19th & 20th 2019 Borgata Hotel Casino and Spa Atlantic City, NJ Fan club members will get exclusive first access to tickets and VIP...

A note from Rob: Sidewalk Angels Foundation has been a labor of love for us for over a decade. Our goal is to continue to raise awareness and help grass roots organizations across the country and Caribbean that work tirelessly to help those with no voice....